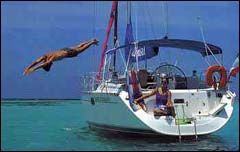 Bridges that span the West Coast Canal (National Waterway III)
There are almost 18 bridges that span the west coast canal from Kottapuram in the North to Kollam in the South. Some of these bridges were built during the British Raj. The then Engineers and Planners had no inkling that in the future such a proposal for a navigable canal would be possible. Therefore most of these bridges have a critical bridge clearance for the Boats and Yachts.

The Inland Water Authority of India (IWAI) has earmarked a project to replace most of the bridges that would make these waterways accessible to the vessels.

The most difficult part of sailing on the west coast canal could be on the Malabar Area i.e from Kochi to Kottapuram. According to officials of the IWAI the bridges on this sector are to low for medium sized boats for passage.

But that need not be a case to worry since the beautiful areas of the West Coast Canal also stretches to the south from Kochi to Kollam. There are several ferries and barges that play on this route. It is however advisable that navigational facilities on the Waterway is available during the day time.

To give our fellow Sailors and Yachters an idea of the Bridges on the West Coast Canal, here are a few details as sourced from the IWAI.

SL
NO
Name of Bridges
Chainage
Vertical Clearnace
(above HFL In Metres)
Horizontal Clearance(In metres)
1
Kottapuram Road Bridger
0
5.0
31.25
2
Cherai road Bridge
10
4.27
18.29
3
Mattanchery Bridge
33.5
5.0
18
4
Venduruthy Bridge (Ernamkulam channel)
33.25
5.0
30
5
Indira Gandhi Bridge
34.5
6.0
27.1
6
Aroor Railway Bridge I
42.2
6.0
26
7
Aroor Road Bridge II
42.25
6.0
33
8
Thanneermukkam Lock (40 ' width)
72.5
5.8
12.3
9
Thanneermukkam Lock (30 ' width)
72.5
4.6
9.2
10
Pallathuruthy bridge
100
5.5
8.6
11
Puthanur Railway Bridge
121.5
6.7
14.6
12
Thottapally Gate (Foot Over Bridge - FOB)
125.9
5.5
8.6
13
Thottapally road bridge
126
6.0
25
14
Trikunnapuzha lock 30' width
133.3
5.5
9.2
15
Panickerkadavu Bridge
160.3
5.5
15
16
Kovilthottam F.O.B
164
5.3
14
17
Chavara Road Bridge
172.7
9.2
25
18
Thevally Bridge
176
6.0
28.5